The Benefits & Features Of Wearing Recoverite Calf Compression Sleeves While Training
Shop Recoverite with 20% off, free shipping & easy returns!
Leggings, stockings, sleeves. There are so many compression products available on the market. Each product has got its own characteristics and benefits, and it might be difficult for people to choose the ideal compression product. That's why we highlight the ins and outs of our compression products.
Introducing…The Recoverite Zip On Calf Sleeve. Made of nylon and spandex, the sleeves are characterized by their easy fit, multifunctionality and their pocket system for Ice/Heat therapy. Making them perfect for anytime performance, warmup and recovery.
Say Goodbye to clothing struggles – The zipper is here

It is no secret that compression leggings and stockings can be a hassle, and take a little patience to get on. At times, especially during shorter sessions, this can discourage people from wearing compression garments. Recoverite's zip-on calf sleeve allows you to say goodbye to that struggle whilst still getting all the benefits to enhance your workout.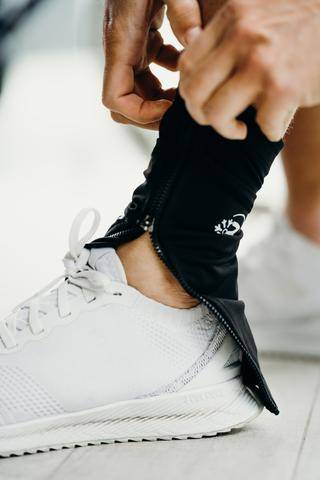 ---
If you find yourself running out of time, or find compression too much of a hassle, the zip-on calf sleeves are the right fit for you. With the zipper, you can easily wrap the sleeves around your legs and unzip your garments once you're done exercising. No longer do you have to take your shoes and other pieces of clothing off to get into your compression garments. Just zip on your Recoverite calf sleeve and off you go.
Compression calf sleeves are mostly associated with endurance activities such as running and cycling. However, with the comfort of the zip-on calf sleeves you can wear them through any everyday activity. The calf sleeves are made of thin, flexible material, allowing for all day comfort and the ability to be worn under your clothes.
Recoverite's compression technology within the calf sleeve, stimulates blood flow, oxygen delivery and activates muscles fibres, giving your performance a boost, allowing you to push yourself harder and further than ever before. Simultaneously, the Recoverite calf sleeve works to reduce the risks of lower leg injuries as well as delayed onset muscles soreness, post workout.
Any questions? Don't hesitate to send us a mail or check out our social media.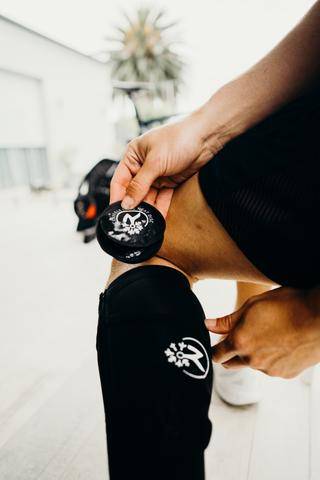 ---
But the functions of the Calf Sleeves go beyond providing compression to your legs: The sleeves are equipped with four pockets. These pockets are designed for positioning frozen or heated ClayFlex gel packs before and after your workout. These gel packs can help you get the most out of your every workout and recovery. And the good thing? You don't have to use straps, towels or tape to keep your gel packs in place.
Email contact@recoverite.com.au or more information and to join Adelaide United FC and Blackburn Rovers FC in effective recovery.
Written by Joshua Giles, Medical & Sports Science
CHECKOUT SOME BEST SELLERS
---